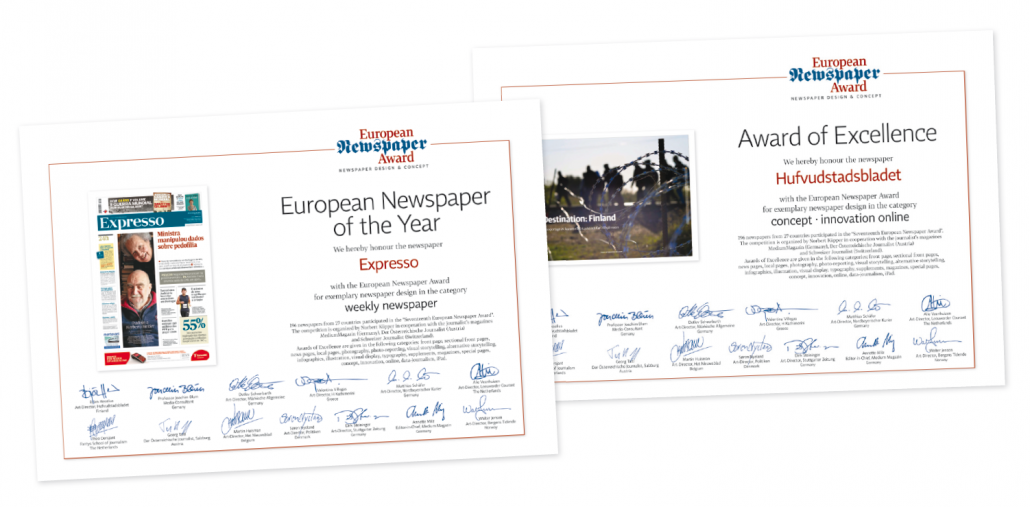 At the European Newspaper Award there are main prizes – European Newspaper of the Year – and Awards of Excellence in different print and online categories.
Call for Entries 21st European Newspaper Award
Since its founding in 1998, the European Newspaper Award has been directed by newspaper designer Norbert Küpper. In the media, the competition is also referred to as the "Oscar of the Newspaper Industry".
Deadline
– The closing date for entries is 1 October 2019.
– Late submissions are possible until 15 October 2019.
The main prize will be awarded in four categories:
– local newspaper
– regional newspaper
– nationwide newspaper
– weekly newspaper
European Newspaper of the Year
In order to decide on the main prize "European Newspaper of the Year", the jury needs two complete printed newspapers from the following period:
– Daily newspapers:
Saturday, August 31, 2019 and Wednesday, September 4, 2019
Special editions, anniversary editions are not allowed here! If your newspaper does not appear on Saturday, send a Friday edition.
– Weekly newspapers:
Two different copies. These submissions must have been published between August 17, 2019 and September 4, 2019. Special editions, anniversary editions are not allowed here!
Awards of Excellence
– Awards of Excellence are presented in various categories for print, online and cross-media.
– Entries in these categories must have been published between October 1, 2018 and September 30, 2019.
Participation fees
– The fee is charged per newspaper title. A maximum of 6 submissions can be made per category. Up to 120 projects can be submitted with a single fee.
– Early-Bird Deadline – Tuesday, September 17 – 260 Euro
– Normal Deadline – Tuesday, October 1 – 280 Euro
– Late Deadline – Tuesday, October 15 – 320 Euro
Deadline: Arrival of the digital data with us.
– For student work half of the regular fee will be charged.
Request invoice
– To be able to write an invoice, we need the exact company address. If in doubt, ask your accounting department for the correct address.
– Request an invoice by email: nkuepper@newspaperaward.org
– Participants outside Germany, but within the European Union: We require the VAT ID of your company.
– After you have requested an invoice, you will receive it by email, usually within 24 hours. The amount must be received by us by 1 November.
The categories of the 21st European Newspaper Award in Print and Online
Awards of Excellence print categories:
1. Cover and Coverstory
1.1. Local Newspaper
1.2. Regional Newspaper
1.3. Nationwide Newspaper
1.4. Weekly Newspaper
2. Sectional front pages
2.1. Local Newspaper
2.2. Regional Newspaper
2.3. Nationwide Newspaper
2.4. Weekly Newspaper
3. News pages
3.0. Refugees
3.1. Terror, war
3.2. Natural disasters
3.3. Environmental protection
3.4. Elections (local, regional, national, Europe)
3.5. Celebrities deceased
4. Photography
4.0. Photographic series
4.1. Portrait
4.2. Cut
4.3. Sequence
4.4. Atmosphere
4.5. Perspective
4.6. Picture page
5. Photo Report
6. Visualization
7. Visual Storytelling
8. Alternative Storytelling
9. Infographics print
9.0. Infographics
9.1. Small Infographics
9.2. Infographics with special emphasis on maps
10. Illustration
11. Supplements
11.0. Weekend supplements
11.1. Supplements for special occasions
11.2. Magazine supplements
12. Special pages
13. Typography
13.0. Typography print
14. Concept, Innovation Print
14.0. New series, new concepts
14.1. Special editions, jubilee editions
Awards of Excellence online categories:
15. Concept, Innovation Online
15.0. Multimedia Storytelling ("Snow-Fall" projects)
15.1. Movies
15.2 Animation films
16. Online and crossmedia
16.0. Web design for news websites
16.1. Typography cross-media
16.2. Cross-media projects
17. infographics online
17.0. Data journalism
17.1 Infographics online
17.2. Animated infographics
18. Podcasts
19. iPhone and smartphone apps
20. Social media
Both Print and Online common categories:
Works on these topics can be submitted not only in print, but also online and cross-media:
3. News pages
3.0. Refugees
3.1. Terror, war
3.2. Natural disasters
3.3. Environmental protection
3.4. Elections (regional, national, Europe)
3.5. Celebrities deceased
Please use the same numbering as for the print category.
Student works
Student works can participate in all categories.
Lokal pages
Local pages can participate in all categories.
More submission tips can be found in other blog posts on this site.
Print and online submissions: Pdfs and how to name them correctly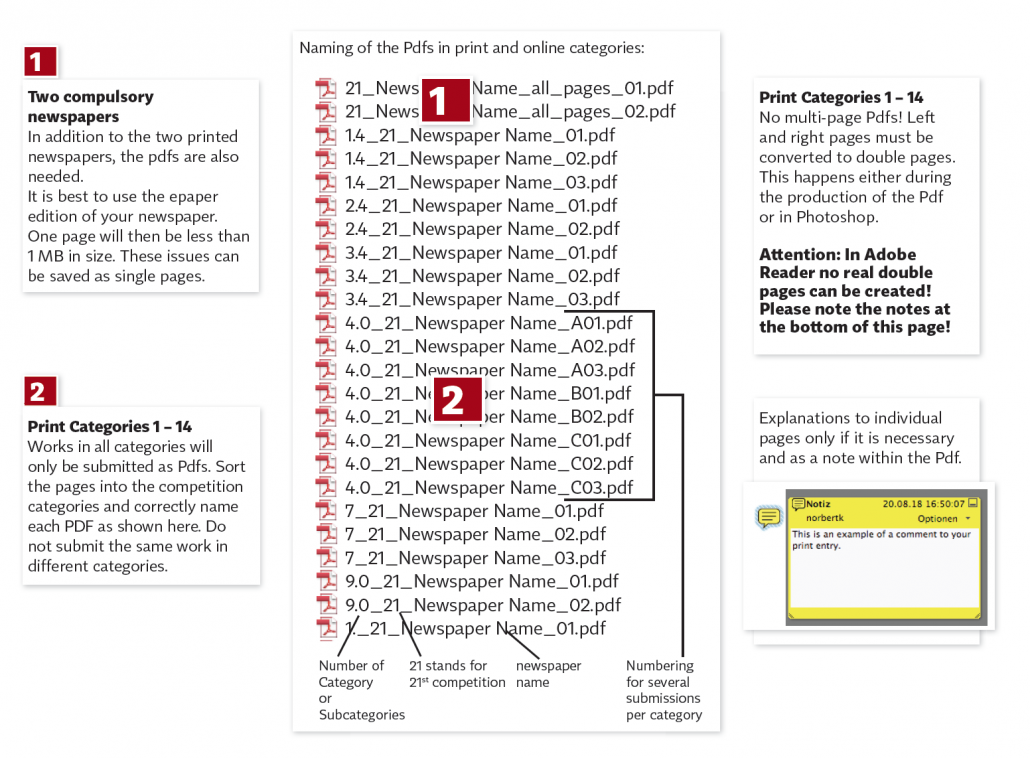 Do not submit the same work in different categories.
Print: How to create double pages in Photoshop.
Double pages must be created as such. This is done either during the production of the PDF or in the Photoshop software. With Photoshop left and right pages are assembled to a spreadsheet: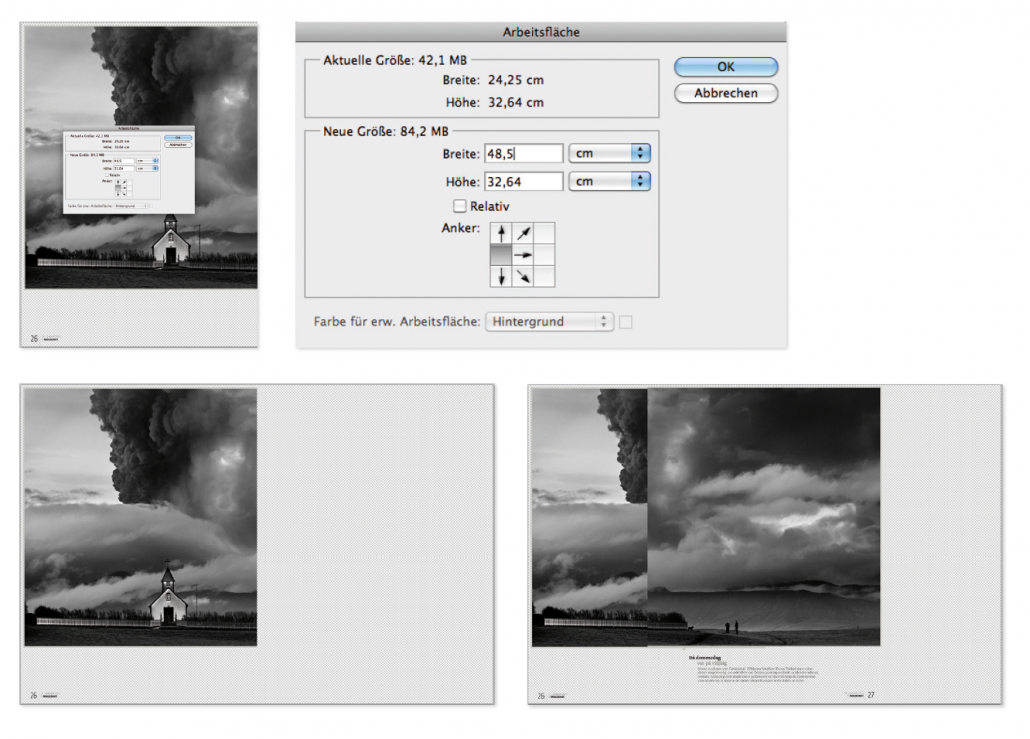 This is how online submissions are prepared:
Please send your submissions in online categories as pdf to: mail@newspaperaward.org You will receive a confirmation email. Alternatively you can use our new upload center.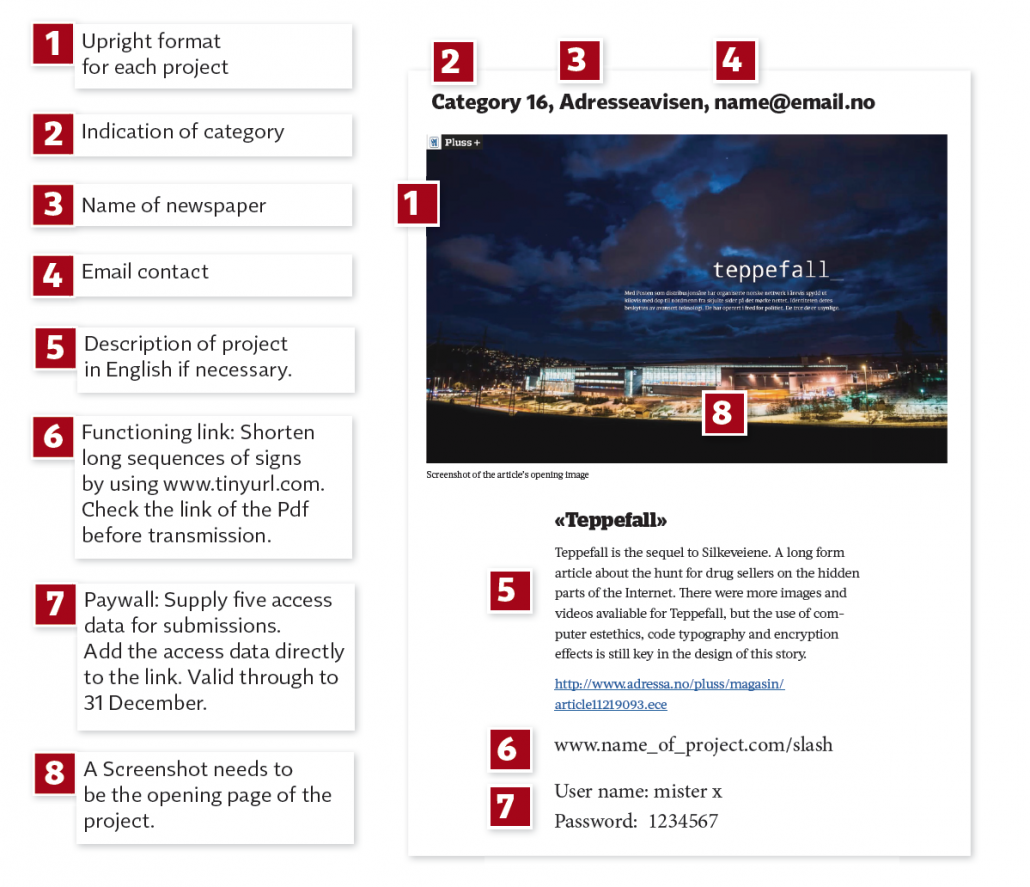 Further information on submission
Crossmedia projects are submitted in the online categories! Send the newspaper pages as Pdfs. Name the Pdfs according to the category.
Each project must have its own Pdf document.
Only Pdf documents are allowed. Word documents can be saved as Pdf files.
Give each Pdf document the name of the category and the name of the newspaper. Please write the name of the newspaper correctly, for example: Der_Tagesspiegel, Stuttgarter_Zeitung, The_Daily_Telegraph, Le_Monde
Two printed newspapers, Pdfs and the participation form are required.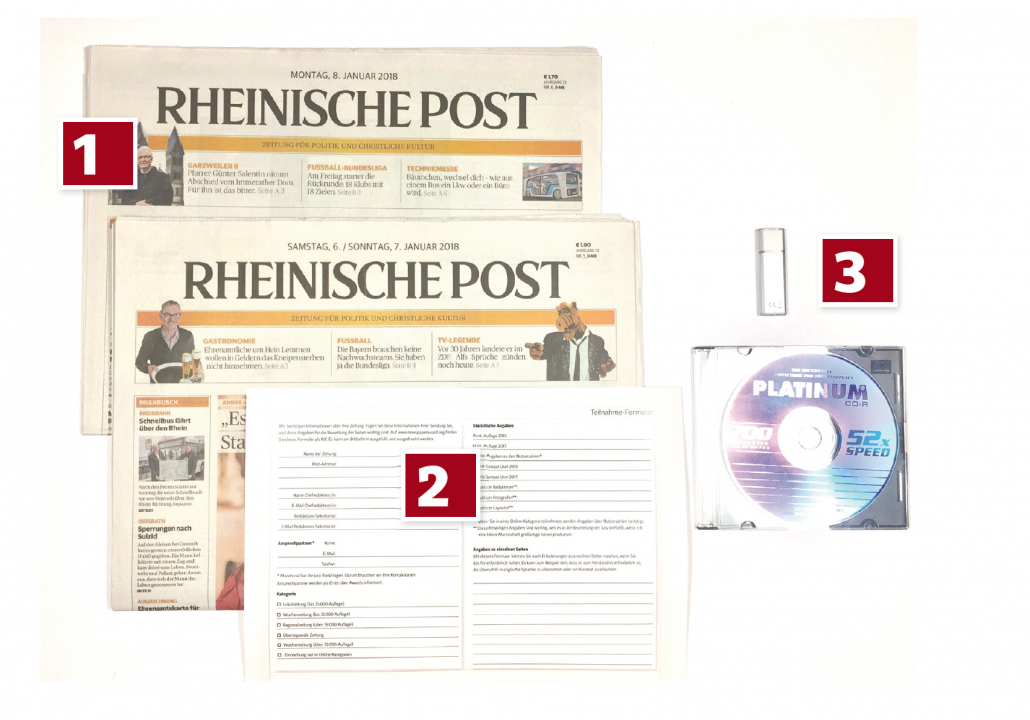 To determine the main prizes, two printed newspapers must be submitted. The two newspapers are obligatory!
Complete and enclose the entry form. It will be filled in on the screen. The form must also be enclosed once as a pdf.
Save the two newspapers and the entries in the categories on CD, DVD or USB stick. Alternatively, you can also use the upload area.
Send your submission well packaged to:
European Newspaper Award
c/o. Norbert Küpper
Gutenbergstr. 4
40670 Meerbusch
Germany
Participation Form
The participation form is required once for your participation. Explanations on individual submissions can be made using the comment function in the Pdf. For example, it may be useful to translate a headline into English. This works quite well with Google Translator or deepl.com.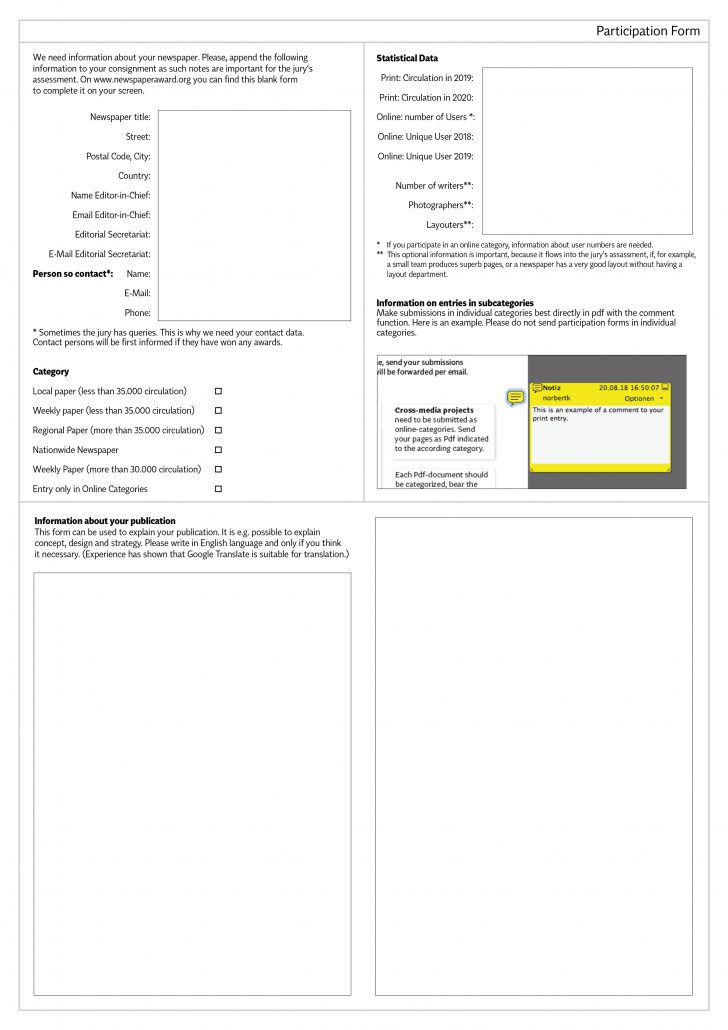 Here you can download the participation form.
Data Upload
As before, you can save the data on CD, DVD or USB stick and send them together with the two printed newspapers. You can also send the files via the Upload Center and send the printed newspapers by post. Click here to go to the Upload-Center.